We Have Decided To Take A Year Off in 2018
In case you have not heard we will NOT have a Tiger Golf Gathering event in 2018, but rather focus on having an outstanding event in 2019.
Here Are The Dates For Our 2019 Event:
What: 2019 Tiger Golf Gathering

When: Thursday, December 5 & Friday, December 6

Where: Greenville Country Club Riverside and Chanticleer
Hopefully these dates will be a great kickoff to yet another ACC Football Championship weekend in Charlotte.
Although we are not having an event this year, there are a couple of ways to support the golf teams by donating to the Tiger Golf Gathering Foundation or to Golf Paws.
Thank you for your past participation and hope to see you at the 2019 event!
Go Tigers!
Charles Warren
Chairman

Todd Lankford
President
---
Thank You For A Great 2017!
The 2017 Tiger Golf Gathering was enthusiastically held November 30th and December 1st at Greenville Country Club.

It turned out to be a great event and we ended up distributing $158,500 to our designated beneficiaries including $120,000 to the Clemson University Golf Program!
Please see a picture below of the check presentation to Larry Penley which took place during the UNC vs Clemson basketball game earlier this year.

The proceeds will be used to make upgrades to the golf facilities benefiting both the men's and women's golf programs.

Since inception, the Tiger Golf Gathering Foundation has distributed almost $2 million!

Go Tigers!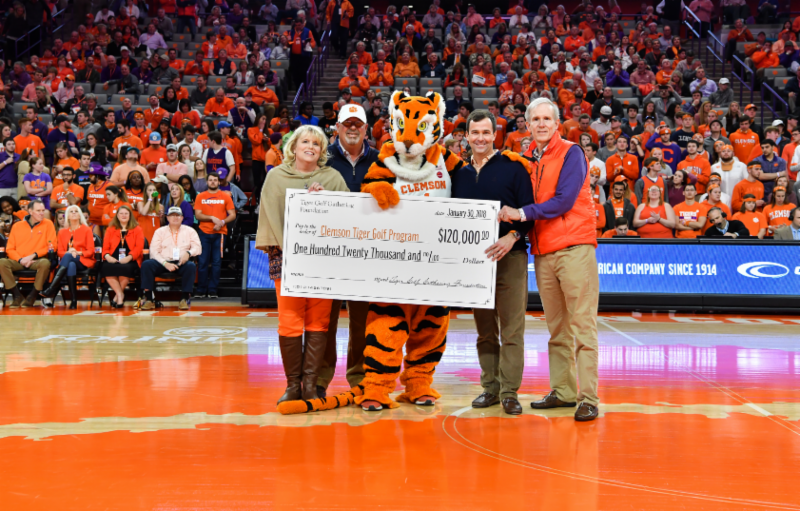 ---